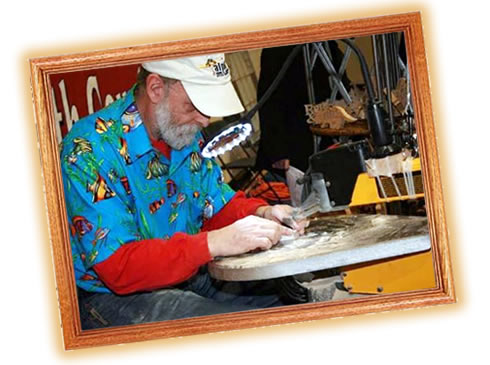 This website allows me to show the many creations that I make from Puzzles 3-D (Animals, Dogs, Cats, Horse and etc), Puzzles flat, Solving puzzles and cutouts. I sell the bulk of my items at the craft shows that I display at during the Spring, Summer and Fall. See listing of events for the latest links to the show, so come see me.
If you see something that interests you or you have a question just send me an e-maiI. I hope you will be come back a number of times and see the changes that I have made to the site and the new creations that will be added by a woodworker doing a website.
Yours in Scroll Saw Dust…
LOOK FOR HANS!
Hans Meier uses a technique to draw in the crowd. Hans is a gifted scroller and really loves his art. Courtesy: Karl Taylor
http://www.scrollsawvideo.com